About Two Hands Mobile Massage and Wellness
Established in 2010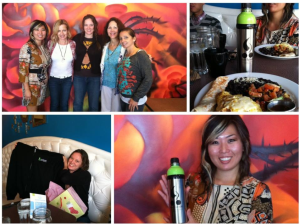 Two Hands Mobile Massage and Wellness was established in 2010 to set ourselves apart from the large number of massage therapists in San Diego. There is not one particular massage for everyone, and at Two Hands we customize your experience with our skilled and educated therapists giving each client the opportunity to choose from a variety of massage options.
The personal attention you receive from your Yoga Wellness Team can get you the best results you want out of your yoga practice. It is also an opportunity to try something new with your friends.
And remember, Two Hands Mobile Massage and Wellness is just that – mobile; we meet you where you're most comfortable: home, work, vacation home, hotel, or hosted private event.
We look forward to working with you soon!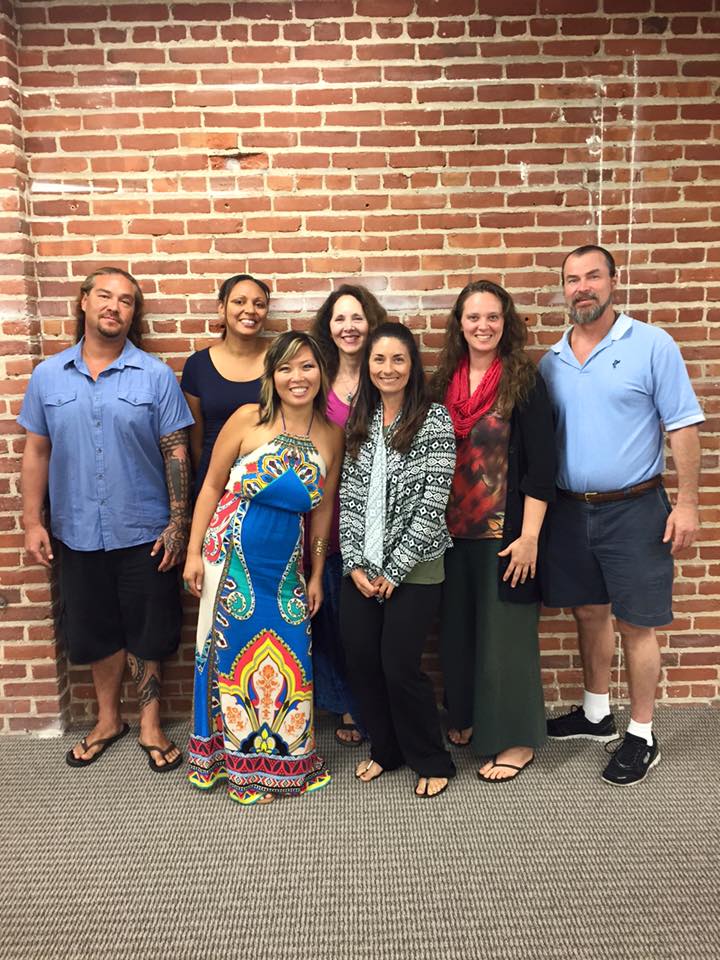 Mike, Kie-sha, Frances, Andi, Peter
Joannie and Masha (Back to Front)
Meet the Owner
---
Joannie Lee

Joannie began her massage career after graduating from the International School of Bodywork in San Diego in 2004. Since then she has worked in Wellness Centers, Chiropractic offices, and Hotel Spas. Two Hands Mobile Massage and Wellness was born as a result of the recession in 2008. She began a drive for private clients and when her schedule was full, she began to hire other massage therapists and wellness professionals. She hires staff that represents her through education, experience, and the love for overall wellness.
Massage & Wellness Team
Acho Martiarena

Acho is a certified massage therapist who is dedicated to the practice and continued education of relaxation and rejuvenation. He focuses on bringing relief and awareness to one's body through therapeutic touch. He specialize in deep tissue, circulatory, sports and neuromuscular massage.

Bella Malulani

Massaging since 1999. Bella specializes in deep tissue, sports massage, hawaiian lomi-lomi, lymphatic drainage, myofascial release, swedish , shiatsu, pregnancy, reiki, and reflexology

Frances Coughlin

Teaching yoga since 2007. Specializes in yoga/yoga therapy classes (tailored to individual needs, including pranayam aka breathing techniques and guided relaxation). She also counsels her clients regarding nutrition, i.e., Ayurveda, gluten sensitivities, and herbs, meditation, etc.

Gretchen Daun

Massaging since 2010. Specialties include Traditional Thai Massage, Thai Acupressure, and Cranio-Sacral Therapy. Focus on therapeutic/relaxation techniques.


Janis Hetherington

Massaging since 2011. Janis specializes in pre-natal, relaxation/circulatory, Manual Lymphatic Drainage and Deep Tissue Sculpting.

Katie Malone

A San Diego native, has been a licensed massage therapist since 2008. Following her passion for helping others, she began studying her trade of the School of Healing Arts in Pacific Beach. Her favorite part of being a LMT is seeing people leave feeling better than when they arrived.

Mike Choo

Massaging since 2007. Specialties include Swedish, Deep Tissue, Sports, Lomi Lomi, Trigger Point, and Myofacial Release.

Tim Knutson

Massaging since 2014. Tim uses a blend of deep tissue, Shiatsu, neuro-muscular release, and cranial-sacral technique in his therapeutic massages.
Book and Pay Online for your convenience
01

Pre-pay and reserve your massage appointment and/or contact us for your yoga class or corporate wellness program online.

02

We will follow up and confirm your appointment.

03

We travel to your location!

04

We follow up and make sure you were happy with our service.